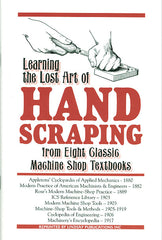 Learning the Lost Art of Hand Scraping 1880-1919
This book not only replaces Old Time Mechanics - the previous Lindsay book on this subject, it also includes it, along with 7 other articles on Hand Scraping.
This is a skill learnt by practice rather than reading, but there is a lot of good stuff here to help you get started, notably on grinding a scraper to the right shape. 48 well illustrated pages. Softcover.