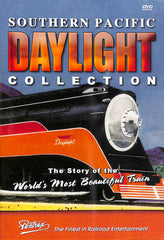 Southern Pacific Daylight Collection
Southern Pacific Daylight Collection. The Story of the World's most beautiful Train !!
They were known as the most beautiful passenger trains in the world. With an emphasis on sheer riding comfort, Southern Pacific's famous Daylight trains transported thousands of passengers along the California coast, with the blue Pacific Ocean as a backdrop, breaking one ridership record after another. The SP was hard pressed to keep up with the demand as these trains grew more and more popular with the riding public. Fortunately, railfans were trackside, too, recording the beautiful Daylights on film.

For over 20 years, Pentrex has searched for footage of the Daylights in order to assemble the definitive portrait of this iconic legend. Drawing upon material from private collections, the Pentrex archives, and the Southern Pacific Railroad, we are proud to now present Southern Pacific Daylight Collection, the fourth in our popular "Pentrex Collection" series.

You'll see the Daylights at work in many locations, from El Paso to Phoenix, crossing the Great Salt Lake, and other scenic areas. In California, you'll spot the Daylights on Beaumont Hill, Soledad Canyon, and especially…where it all began…along the Coast Line. A few Daylights are shown during the diesel era, but for the most part the GS-4s are the star of the show! You'll even see a few locomotives in service after they'd been relieved of the Daylight duties. Our program ends with the 1930s film, Daylighting the Padres Trail. We know you will enjoy this presentation from beginning to end. It's the most complete coverage of the Daylights ever released, and it's Pentrex's grand tribute to "The Most Beautiful Train in the World."

DVD Special Feature:
Chapter Menus provides instant access to program segments.


Includes the option of watching the program with or without narration.
1 Hour 20 Minutes
Beautiful Color, with Hi-Fi Sound and Narration
Presented in Standard Definition 4x3 Format
No region code; can be played in NTSC DVD players worldwide
Packaged in Sturdy Vinyl Clamshell Case
ISBN: 1-56342-334-0
UPC: 7-48268-00617-3
Produced by Pentrex 2013