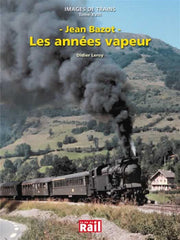 Images de trains. Tome 18. Les années vapeur.
Volume XVIII. 
The steam years - As new 
Volume XVIII of the famous "Images de Trains" collection is devoted to colour photographs by Jean Bazot, known for his impressive collection of old postcards made available for numerous railway publications.
Jean Bazot's photographic collection has remained very little used until today. Didier Leroy, known for his numerous works on railway history, has brought together the most beautiful color images, essentially covering the period from 1956 to 1970.
Highlighted by abundant use of large and medium format, they are supported by a caption providing subtle information, which can only invite additional curiosity about these "steam years", on the equipment, the buildings, and the environment, before the contingencies of time came to erase them.
Comprising 168 pages and 226 photographs