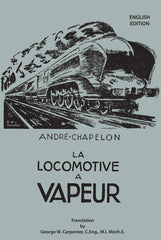 La Locomotive a Vapeur - Digital Edition
AVAILABLE AS A DIGITAL DOWNLOAD ONLY
Written by the great French engineer André Chapelon, the man responsible for what were the world's most efficient and, on a pound for pound basis, most powerful steam locomotives ever built. Published in 1952, in this book Chapelon reviews in detail developments in the design and construction of all the steam locomotive's major parts, and compares the merits of simple and compound expansion. He then looks, again in detail, at the major  standard gauge locomotive designs worldwide of the 20th Century, including his own.
Translated from the French by George Carpenter, this edition includes various addenda updating Chapelon's work to the end of commercial steam, looks at Chapelon's unbuilt designs, and reviews the work of those who have continued to develop advanced steam locomotives.
A book nobody interested in the history of the steam locomotive in the 20th century should be without.
659 A4 format pages, over 450 B & W photos, drawings, diagrams and charts, plus 41 colour illustrations.