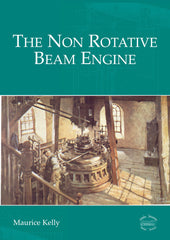 The Non Rotative Beam Engine DIGITAL EDITION
AVAILABLE AS A DIGITAL DOWNLOAD ONLY
This book has been out of print for some time, and is now reintroduced as a digital book for viewing on a computer, iPad or similar. Not downloadable on to a 'Kindle' or similar reader.
The late Maurice Kelly wrote two classics books on Steam Road Waggons, and another of the American Steam Traction Engine, but this book, which we published in 2002, was his only book on a non-road linked subject.
 The Non Rotative Beam Engine, commonly known as the Cornish engine from where it was initially developed and used, was a critically important early stage in the development of steam power as an industrial tool - in its case largely as a mine pumping engine, which enabled the Cornish mining industry to go deeper and extract more ore profitably.
In this book the author traced the development of the non-rotative engine, initially from Newcomen to Boulton & Watt. After the latter's restrictive Patent expired in 1800, further developments followed under Woolf, the Hornblowers, Bull and Trevithick amongst others, leading to more economic and much larger engines, with cylinders up to 100 inches and even, in one case, to 144 inches in diameter.
Covered in the 64 pages of this book are not just the engines, but the boilers, pitwork, pumps and other apparatus associated with these wonderful machines – the largest steam engines ever built. There is also a listing of preserved engines in the UK and in the Netherlands. Profusely illustrated with drawings, woodcuts and some B&W photographs.