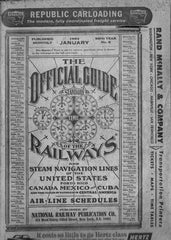 The Official Guide of the Railways and Steam Navigation Lines of the United States, Porto Rico, Canada, Mexico and Cuba etc. - January 1964
Published in January 1964, its 96th year of issue, The Official Guide  was THE guide to passenger services on railroads and ships in North America, plus some in Central America, and some early air-line schedules.
When this volume came out, whilst passenger services were being reduced, Amtrak was still 7 years in the future, so that all the major trains appear, even if they may have been somewhat reduced from their glory days. Steam power also features on narrow gauge lines in Mexico and the Silvertown train in Colorado, although as it was winter, no schedule is shown for this. And a good number of the smaller concerns, or branch lines, show up as 'Freight Service Only". This is a very interesting window into American railroading at a time of great change.
By their nature, timetables are ephemeral, so do not normally survive long after they are superseded. Quite how this copy has survived I know not, although very faint writing on the front suggest it went to somewhere, possibly a Cooks office in the City in London. Perhaps it was rescued by an enthusiast, or a business traveller! Perhaps it is the only copy left in the world?
1152 pages in total, and a paperback
CONDITION: Well used, with the thin paper browning, although all the contents are perfectly visible. Corners nearer the front somewhat worn and a bit bent, but the binding is tight. A rare survivor!