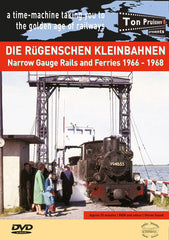 DVD Die Rügenschen Kleinbahnen - narrow gauge rails and ferries 1966-1968
55 mins • B&W & colour • Stereo Sound
Germany's largest island, Rügen is a popular holiday destination, with a standard-gauge railway connection by bridge to the mainland. This runs to the main towns of Putbus and Bergen and the scenic attractions of the island's east coast. These towns were also the centres of two fascinating narrow gauge systems which had little in common other than their 750mm gauges.
The first part of the southern system opened in 1885, largely following the coast from Altefähr east via Putbus to the seaside resorts of Rügen's southeast coast, ending at Gören.
The second system ran north from Bergen to Wittower Fähre and a real rarity - a narrow gauge train ferry, before the line continued to its northern terminus at Altenkirchen. Only freight wagons were transported on the ferry; passengers were on foot, seemingly unsheltered, and road vehicles were carried when there was space. The ferry operations are shown in detail. The Görlitz counterweight brake was used for most of this line's existence.
When Ton Pruissen shot this film both lines were intact, but shortly afterwards the northern system was abandoned, and the southern one reduced to the section from Putbus to Göhren, which still operates today as the Rasender Roland.
Locomotives seen are attractive 0-8-0 and 2-8-0 tank locos on the southern system. The northern system used 0-6-0 tender-tank locos, and 0-4+4-0 Meyer tanks south of the ferry.
The film may be played with the superbly dubbed stereo sound, but without the English commentary and there is a map of the system on the inside of the cover.