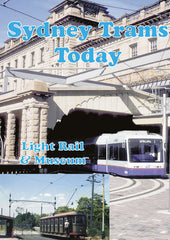 DVD Sydney Trams Today - Sydney Light Rail and Sydney Tramway Museum
Sydney once had the largest tramway system in the Southern Hemisphere, but the last tram ran in 1961.
In 1997 Sydney Light Rail opened, using the abandoned goods line from Pyrmount to Lilyfield to reach Central station, using ABB cars with hub-mounted motors.
When the original tramways closed a representative collection of its trams were preserved and are seen here in operation near Sutherland where they operate on a regular basis. Trams ancient and modern to be seen here!