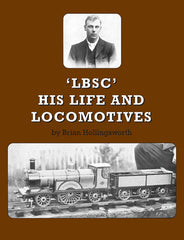 LBSC His Life and Locomotives (Digital Version)
AVAILABLE AS A DIGITAL DOWNLOAD ONLY
This book has been out of print for some time, and is now reintroduced as a digital book for viewing on a computer, iPad or similar. Not downloadable on to a 'Kindle' or similar reader.
Brian Hollingsworth wrote and published this biography of the most famous of all model locomotive designers and writers in 1982, and we we published this edition, which is also intended as a Memorial to Brian in 2003. It has long been out of print.
Brian was a great enthusiast for the steam locomotive, and whilst he owned, or had shares, in a number of full size engines, his ultimate love was the 'model' gauges and this biography was a way of saying 'thank-you' to Curly for enhancing his life so much.
There can be few model engineers who have not come across 'LBSC's' designs or writings, and the statistics are impressive: 112 designs published over 44 years, over 3000 articles published in Model Engineer and other magazines, the last only a month before his death at the age of 84. And he built 55 small steam locomotives himself. But what made him famous was his style of writing - informative, opinionated and down to earth, they gave the ordinary man the confidence to realise that he could build models if he wanted to, and then told him how to do this. When one considers just how many model locomotives have been, and are being, built to an 'LBSC' design, his impact will be realised.
In this masterly book Brian looks at 'LBSC's" life, writings and designs in some detail, warts and all. The unfortunate enmity between 'LBSC' and Henry Greenly is considered at length, as is his latterly somewhat fraught relationship with Model Engineer. The question of 'LBSC's" sexuality (he was registered as female at birth and christened Lillian, but had a long and happy married life) is covered sympathetically.
All in all this is a fascinating and highly readable book on a fascinating and highly readable man, and is a book any model engineer with an interest in the growth of his hobby should have on his bookshelf. Whilst this edition includes a Tribute to Brian Hollingsworth by Dr. Brian Rogers, and a few minor alterations, it is otherwise a facsimile of the original printing, although the text has been rescanned and set, as have the illustrations, where possible from original prints. 112 pages. Over 220 B & W photos and drawings.